I created a ticket but didn't receive the answer? What did I do wrong, and how may I get the response?
When I get the response? How will I know my question is answered?
When you face any issue while using Folder Marker (failed to activate the license, lost the activation key, etc.), you may submit a ticket to our support department.
We answer in 2 working days usually, and you got an email notification when we answered. The notification is sent to the email you mentioned when the ticket was created.
Here is how it looks like: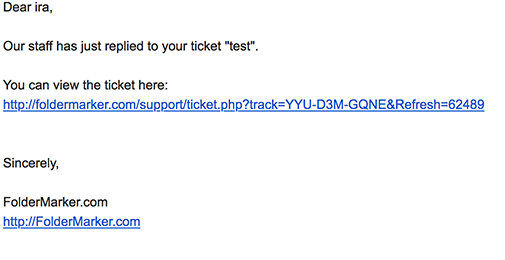 That is why important to recheck your email address before sending a ticket. To be sure you entered the correct email, check your mailbox just after creating the ticket. You should find there a confirmation similar to this:

If you see it, it means everything is right. If not, you entered a wrong email address, or our email is blocked/filtered by your mail service provider for some reason. In this case, read the next paragraph.
I didn't get a response from you after 2 working days of waiting. What to do?
Sometimes we answer tickets, but users are failing to find our response and don't read our answer. The main reasons are the next:
our notification email got to the Spam/Junk folder or blocked by your mail service provider;
you entered a wrong email address.
Notifications in the Spam folder or not received at all
To be sure you will see notifications from our ticket system and these emails will not be filtered on the Spam folder, please add helpdesk@foldermarker.com to your contacts.
If you are using Gmail, follow the next steps:
Click "Show Details" arrow near contact data

Hover over the email address and click on the "Add to Contacts" button.

If you entered a wrong email
If you entered a wrong email, there are two options to solve the issue:
create a new ticket and make sure you added correct email;
check out the answer by Ticket ID.
After you've submitted the form, you will see the window with your ticket number. Copy and save the Ticket ID to track the ticket status.

Go to http://foldermarker.com/support/ticket.php and enter then your Ticket ID to the corresponding field.
You will be redirected then to the support system to check the answer. Add additional queries to the "Message" field.
How to use our ticket system in the right way.
To finalize everything written above:
Double-check an entered email address when you submit your ticket.
Write somewhere a Ticket ID you see on the confirmation page after submitting your ticket.
Add helpdesk@foldermarker.com to your contact list in your Mailbox to be sure you will get the notification when we answer your question.
Wait for 2 working days and check our answer by clicking the link in the notification email from us, or by using Ticket ID you saved on item #2.