Organize your music projects and audio collections
Music Folder Icons pack has 89 folder icons with music symbols.
Whether you are a professional musician or you just have a large audio collection, you understand how hard it is to keep files in order. It's important to have a clear structure and follow the strict naming rules; otherwise, you will easily get lost in the mass of identical-looking yellow folders.
Music Folder Icons is a pack of icons for a musician or composer for easy and convenient management of working folders; and for a music lover, it's easier than ever to sort their audio library. Label your important folders with a bright musical icon from the pack, and it will be much easier to find the necessary folder with just a glance. This speeds up searching for the right file and creates a sense of order.
Price: $19.95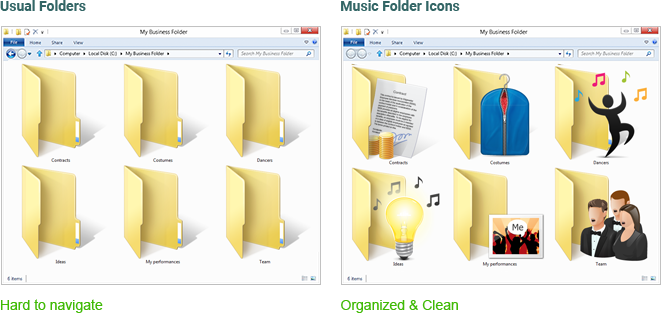 The Music Folder Icons pack consists of 89 icons with music-themed symbols:
17 icons with the symbols of musical instruments;
12 icons with symbols of different music directions;
10 icons with the logos of the most popular audio editing software;
14 icons with different audio file formats;
24 icons associated with music in general, from concerts to autographs of stars; and
12 icons symbolizing organizational activity in the music sphere.
Here are all the icons that are included in the Music Folder Icons pack:

Who is this pack for?
Owners of large audio libraries;
Musicians;
Composers;
Music lovers;
Concert masters;
Everyone whose profession or hobby is connected to music;
The main characteristics of the Music Folder Icons pack
They are designed in Vista style, but are suitable for use on Windows XP, 2003, Vista, 7, 8, 8.1 and Windows 10.
The icons look good in all sizes.
All 89 icons are created manually by a professional icon designer. That is why they are so clearly distinguishable even in the smallest sizes, like 13X13.


All icons are well thought out and created in one style.
All icons of the Music Folder Icons pack are already designed for you and your field of activity. This means that you do not need to waste your time manually selecting images from the Internet. All icons are created in one style and harmonize with each other.
How do you use the Music Folder Icons?
This pack can be used both independently and in tandem with a special Folder Marker program, which reduces the process of changing folders to two clicks. It also has many additional built-in icons.
When using the Music Folder Icons pack, we recommend also using the Folder Marker Pro version. This is the most advanced version of the program, which has a number of advantages:
The Pro version includes additional built-in packs of icons that will help you organize folders based on criteria such as:

by colors and shades: you will be able to highlight the colors of various performers and genres, give a more saturated tone to major key tunes, and less saturated tones to minor key tunes;
alphabetically: you can locate files by artist name or by album or track name;


by priority (high, normal, low);
by the degree of completeness of the project (done, half-done, planned);
by the status of the project (approved, rejected, pending);
by type of information stored inside (work, important, temporary or personal files).

You can backup the labeled folders, transfer them to another computer or disk, and use a number of other functions.
You can expand your collection of icons over time and add new packs to it. For example, you can use a pack with numbers and dates to arrange albums by their release dates.
Start marking your folders and see how easy it is.
Good luck in your musical career!