Two-color Folder Icons – a professional approach to sorting computer folders by color
182 bicolored folder icons that will help you to put things on your computer in order.
In the ordinary world, we're accustomed to using markers, highlighting important documents or laying them out in folders of different colors. This allows us to quickly find the information we need.
Then why do you keep storing your computer files in the same old yellow folders?
This icon set helps you highlight important folders with bright colors so they're easier to find. The pack also contains two-color folders for people who want to build a more color-marking system.
The "Two-color Folder Icons" pack includes 182 icons. Among them are:
13 color markers;


b) 13 full-color folders in the same colors;


c) And 156 folder icons of all color combinations.
Price: $19.95
Here's what a full pack looks like:
Who might be interested in this pack?
Unlike simple folder coloring, this pack will be useful to anyone who wants to use 2 criteria for color coding at once, or whose documents can go under two different categories at the same time.
So, for example, in genealogy you can use two-color folders to keep documents about a relative who belongs to two family branches marked by different colors. An education plan can be visually distinguished not only by the names of the subjects, but also by months, etc.
What are the advantages of the Two-color Folder Icons pack?
Looks good in all sizes, even the small ones
All icons were created by the professional design studio, IconDesignLAB.com. This is why they look accurate when you zoom in or out on them.

Suitable for complex folder-management systems
As you can see, the location of the folders in the set resembles a table. At the intersection of each row and column, there is a folder that combines 2 colors. This is a key characteristic of the "Two-color Folder Icons" pack, which allows you to use 2 colors to label folders whose contents belong to several categories. Thus, having 182 icons in stock, you can easily color-mark even a complex system of folders.
Saves time
You won't waste time by labeling folders. Together with this set, the assistant program, Folder Marker, will help you to label all your folders in just a few minutes.
How to label your folders with icons from the "Two-color" pack in two simple clicks
To work comfortably with the Two-color pack of icons, you will need the Folder Marker program. It will allow you to color-label folders on your computer in just 2 clicks. Moreover, it will allow you to label folders not only with colors, but also with different status images.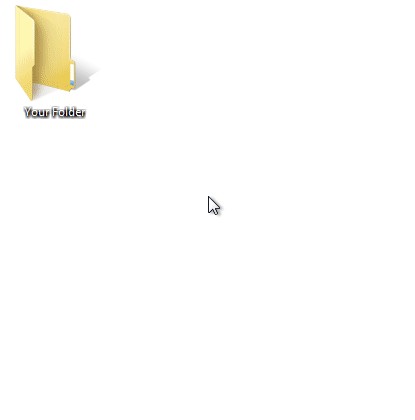 To start using the "Two-color Folder Icons" pack, the Home version of the program will suffice, but we recommend the Folder Marker Pro version. Here's why:
Folder Marker Pro is the most advanced version of the product; it offers many additional features, including a license to work not only at home, but also at the office.
The Pro version contains additional icons for work documents that allow you to divide folders according to the following criteria:
priority (high, normal, low);
degree of the project completeness (done, half done, planned);
status of the project (approved, rejected, pending);
type of information (work, important, temporary and personal files);
colors and shades;
alphabetical order.
Besides that, Folder Marker Pro contains 62 additional icons for office work, which are not included in the Home version.
The Pro version allows you to make a backup copy of marked folders, transfer them to another computer, or restore your marking after reinstalling the system.
You can find the full list of differences here.
3 simple steps to perfectly ordered documents
To start using a two-color labeling system, follow these 3 simple steps:
Download the special Folder Marker program;
Install the Two-color Folder Icons pack;
Label your folders in just a few clicks.
Create your colorful and organized system of electronic documents with Folder Marker!