Separate work files from your hobbies with Hobbies folders!
82 folder icons with Hobbies symbols to get a well-organized, good-looking desktop space
The more activities you perform, the more folders with special photos, videos and other memories scattered over your computer screen. As a result, there are too many useless files on your device's desktop space. With Hobbies folder icons, you can more accurately and efficiently organize your desktop space.
Price: $19.95
Hobbies Folder Icons represent your interests
Hobbies folders were created to replace ordinary yellow folders into thematic folders according to your interests. This set contains 82 different pictures to represent sports, dancing, singing and any other activity you are fond of. These images will explain a folder name without the need for tiny words below. Here, you can look over the full list of available Hobbies icons:

Folder icons clean up desktop space and simplify navigation over the device
With the Hobbies Folder Icons, you will spend less time on required folder searching. A person defines pictures quicker than simple words. When the usual yellow folders are instead labeled with a picture, they are more visible. Check the difference between customary yellow icons and Hobbies Folder Icons: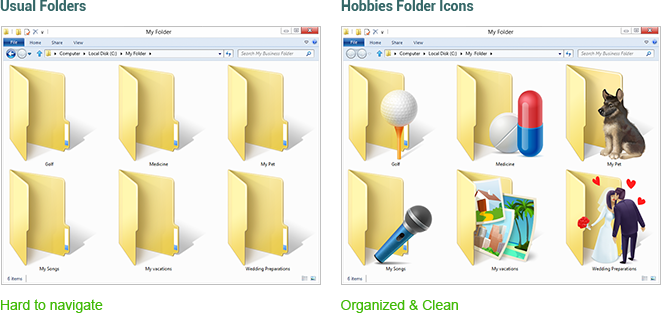 A few simple clicks is all that is needed to apply Hobbies icons on the desktop
As soon as you've purchased the icon pack, you can apply folder icons using one of these suggested ways:
Change folder icons using standard Windows' way
Select and right-click the desired folder
Select Properties from the drop-down menu
Select Customize tab in the dialog
Click on Change Icon… button
Click Browse button and select Hobbies.icl file
Select an icon from the suggested list
Change the icon by clicking OK and then Apply button
Seven steps might be too complicated; that's why there is an alternative, two-click way to apply folder icons using Folder Marker Pro.
Change folder icons using Folder Marker's way
Folder Marker Pro is the program for Windows created to label usual folders with colors or icons to highlight them and ease desktop navigation. Here is how the yellow folder can be changed in two simple clicks and become labeled with the help of Folder Marker Pro.
Right-click on the folder
Select the icon from the Mark Folder menu.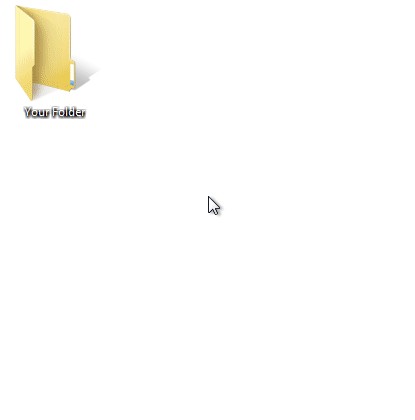 Easy, yeah?
Folder Marker Pro has 148 icons included and lots of features for labeling folders on several computers and for different purposes. Try out everything yourself!