Find any folder at a glance with noticeable Extra10 Folder Icons
45 cute folder icons help you navigate easily between home and office folders
Almost everyone stores both work-related and private documents on one computer. Often we need to carefully read the names of similar yellow Windows folders to find the right one. Extra10 Folder Icons are made to label important folders for easy, at-a-glance identification and help you avoid the confusion of identical-looking yellow folders.
The Extra10 Folder Icons pack consists of 45 cute images with amazing Windows 10-style* design and scrupulous attention to detail. With its help, you can organize your files in folders however you want, whether it's for private to office use.
* - Although these icons were designed in Windows 10 style, they can be used on Windows XP, 2003, Vista, 7, 8, 8.1 or Windows 10.
Price: $19.95
What's in the Extra10 Folder Icons pack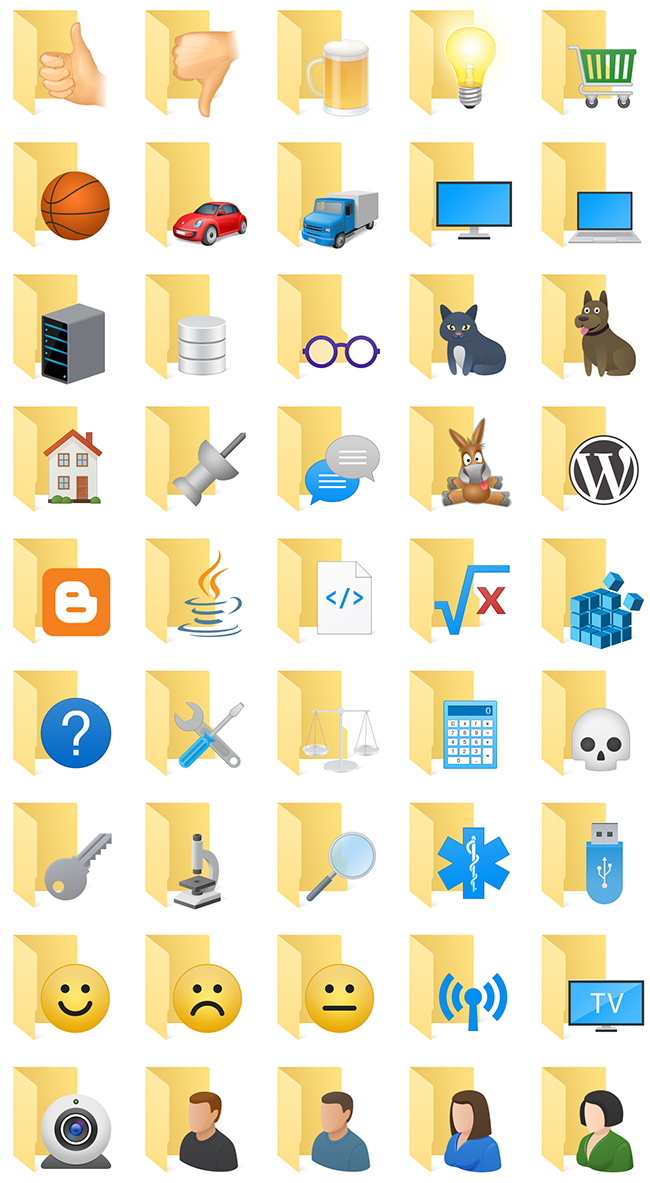 Initially, this pack was conceived to be an addition to Everyday10 Folder Icons and for users who wanted more icons. That's why it was called Extra. In fact, this pack is a completely independent product that doesn't need any extra purchases and can be used for many purposes:
For organizing your business papers, use office folder icons: computer, laptop, office chair, databases, calculator, USB and so on.
For sorting your blog materials and programming files: Wordpress, Java and programming icons.
If several people use your computer, label folders with special women and men avatars.
Put things in order in your private folders using home folder icons such as: beer, purchases, medicine, a dog and a cat, and so on.
Sort your favorite and unloved documents using smile folder icons and symbols with hands.
Use your imagination and find the best icons for folders for any topic. For example, a red car folder icon can label the folder with automobile insurance and related documents. A light bulb could be added to the folder for new ideas. And a skull folder icon could be used for projects with deadlines.
Quality icons in all sizes
Every folder icon was specially created by a professional icon designer in all sizes that can be displayed on your computer. The quality of the image will let you distinguish the folder at a glance, even if it is 13x13.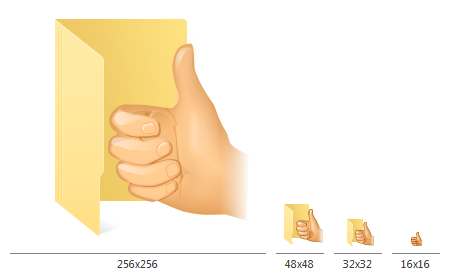 Unlike icons downloaded from the Internet, these are created in the same Windows 10 style and fit together. Your computer will look neat and clean.
How to label folders with Extra10 Folder Icons?
You can use these icons without any special programs; just use a standard Windows menu. But we recommend you use a solution that will save you lots of mouse clicks. Just download and install a special assistant program called Folder Marker Pro. You'll be able to add icons to your folders in a few clicks by right-clicking the menu on the folder and selecting the desired icon. See how it works: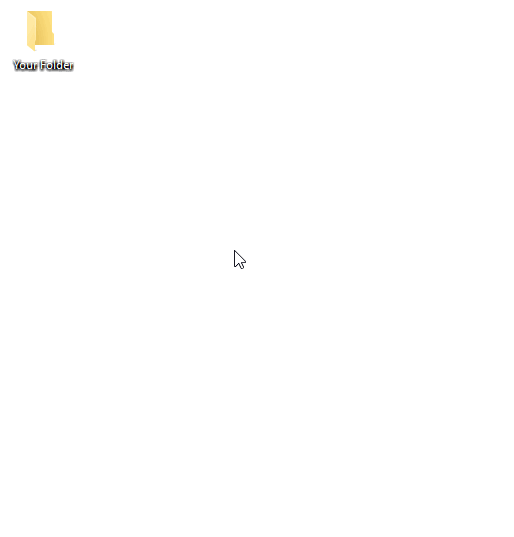 Easy, yeah?
Folder Marker Pro has 148 additional icons included and lots of features for labeling folders on several computers and for different purposes. Check it out: