Spruce up your folders with Folder Marker Free
A freeware add-on for Windows lets you label folders with color-coded icons to make a search for important information a "one-glance" affair.
Folder icons can be customized using the standard Windows method, but with Folder Marker Free you can do this on the fly from the right-click menu of a folder. So there is no need to go through additional dialogs or run Folder Marker Free itself! Simply select the folder you want to label, right-click on its icon and select a color-coded icon from the drop-down menu. The icon will be assigned to the folder at once.
With the same simplicity, you can label several folders. Simply select a group of folders with the mouse and assign a new icon from the right-click menu. Another great option is an ability to add up to ten icons of your choice to Folder Marker and use them in marking along with the default icons. The program can assign icons to a folder from a wide array file formats, including ICO, ICL, EXE, DLL, CPL or BMP.
This edition of Folder Marker contains only basic functions so it is good for beginners. Here you can compare Folder Marker Free with other editions of Folder Marker.
Screenshots
"Mark Folder" popup menu: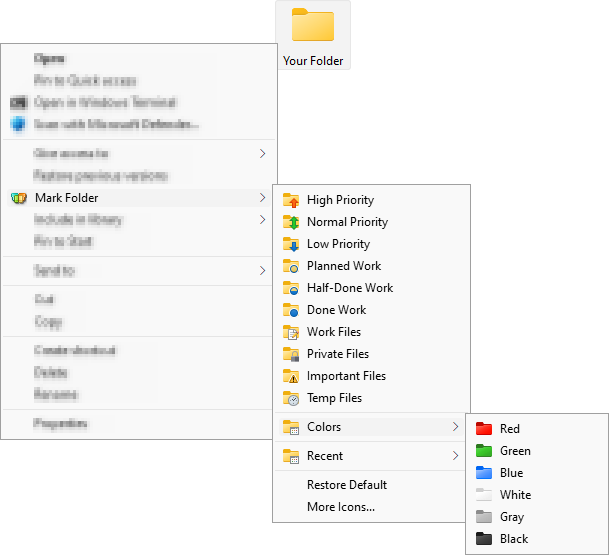 Main window: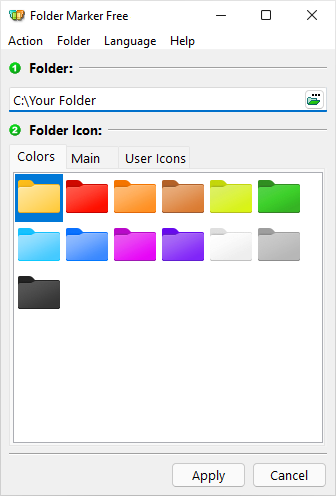 Key features:
and
Folder Marker

can change the icons of

ALL folders

in your system. This is the favorite feature of customization lovers. Get rid of monotony! Make your folders your own!
And what's more - Folder Marker is FREE! Click here and compare Folder Marker Free with other editions of Folder Marker.