Lines Folder Icons: Сreate a two-colored system for your Windows folders
144 icons with two lines in 12 basic colors in Windows 11 style
You have a folder system and one color to differentiate folders is not enough for you? Do you want to sort folders by several criteria but do it accurately, without too much color all around the desktop? Line Folder Icons can help with it!
The set contains 144 icons with two lines in 12 basic colors: 12 icons with the same-colored double lines and 132 mixed with each other. Colors: red, orange, lemon, green, brown, blue, azure, pink, violet, white, gray, and black. The cons are drawn in Windows 11 style.
Price: $19.95
Take a look over the complete list of Lines icons:
Use the same color lines, for example, red-red. Or different ones, red-orange, green-brown, etc. to create a color-coding system and give the folder meanings for each color.
Lines look professional in all sizes
The look of Lines Folder Icons will refresh your desktop because of the modern Windows 11 style and neat minimalist design. Icons are drawn in 6 sizes: 16x16, 20x20, 24x24, 32x32, 48x48, and 256x256. No matter what size you choose - our professional designers make them look accurate when you zoom in or out without blur.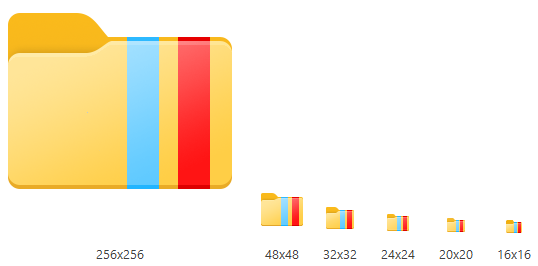 Mark your folders with labels from the "Lines" pack in two clicks
The set is a complete product and can be used with or without the Folder Markert utility. After purchasing the icon pack, you can label folder icons without additional programs. But this set was created with the idea that the user will have Folder Marker installed.
For comfort work install the Folder Marker. It will help you quickly label folders in 2 clicks and give more icon choices. If you choose a Folder Marker Pro - you would be able to sort or filter marked folders by the labels you've applied to them.
Look at how standard folders can be changed in two simple clicks with Line Folder Icons and the help of the Folder Marker.